I'm so tired. I feel like skipping Malvina's birthday drinks and slack and feed my family members calorific amounts of homemade goods but I fear I am close to suffering (if not, already) from social retardation. So going out is
good
for me!
This is a shout out to all my 'friends' who didn't invite me to their respective parties - You all suck. Thanks for not inviting me to your semi-awesome parties. Because of you, I have no life. I know this has nothing to do with me, because my jokes are funny and my conversations are interesting, and even if they weren't, I am sooooo attractive and that should count for something... So it's all got to do with you. Thank you for making me a
loser
!
LOL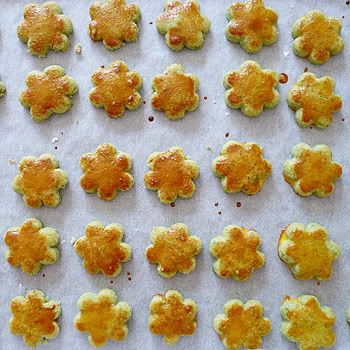 moving on. yes. GREEN PEA COOKIES!! yeah, not green
tea
, green pea! they're like your crumbly shaped peanut cookies, but better! why? because it's made with green peas! no, really, they're more savoury, and taste lighter! plus they take on this really cute grassy green colour.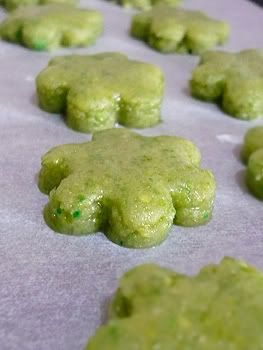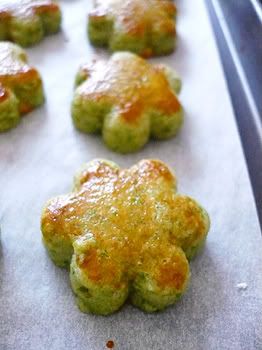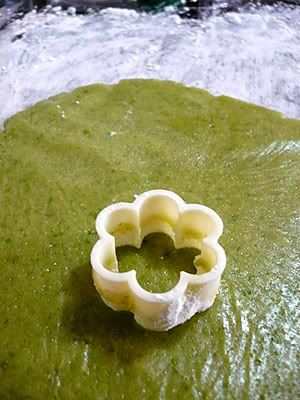 Recipe from mykitch3n.blogspot.com
Ingredients:
120 gm green peas, snack type (grinded)
100 gm icing sugar
¼ tsp salt
180 gm plain flour
100 gm vegetable oil

Glazing:
1 egg yolk
½ tbsp milk

Methods:
In a large mixing bowl, bring together all ingredients and mix until a dough is formed.

Roll out dough between two sheets of plastic, about 1cm in thickness.

Cut dough with cookies cutter and place onto baking tray lined with baking paper.

Glaze with egg yolk mixture.

Bake in the preheated oven at 170ºC for about 15 mins or until the surface is browned.

Cool completely on rack before storing.
Notes:
I used this brand of green peas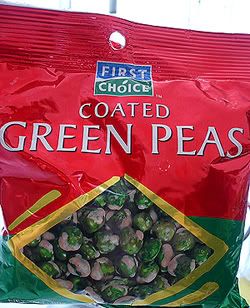 since they were coated, i only used 150g of flour.

2) I used self-raising flour and caster sugar because that was was I had on hand!

3) I ground the peas and sugar together until powdery.
also, yesterday, there was a hamper delivery! the first of some to come for Chinese New Year. Why people send my mom hampers, I will never know. She works in the shipping line, so I'm roughly guessing they are "It has been a pleasure working with you and thanks so much for ensuring that the cargo ships that our products were in were not attacked and looted by pirates" hampers.

IT'S A SHIP HAMPER!!! okay i know that's actually more like a chinese junk but i've developed quite an affinity for this hamper (inanimate object love) and i don't want to refer to it as junk.